Welcome to Geeklog Tuesday, October 16 2018 @ 03:38 pm EDT
Downloads
File Listing: 732 files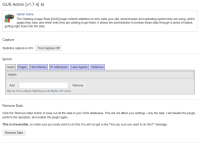 MD5:
d122a90e371168aa5eff4769937b65b7
The Geeklog Usage Stats [GUS] plugin collects statistics on who visits your site, what browser and operating system they are using, which pages they view, and which links they are clicking to get there. The minimum Geeklog version required is v2.1.0 (now supports v2.2.0).

MD5:
ad45a2774da577c86c6fe13931306b83

MD5:
a0629a544eac8f7250bcab8f57858f8b

MD5:
c04c2f9a396ab76aa677df493717e918
Translated from language file in version 0.7.1 of the easyfile plugin.

MD5:
05a28f8b6140637012790ca440b7b3c8