Welcome to Geeklog Friday, May 27 2022 @ 01:39 am EDT
Downloads
File Listing: 751 files
MD5:
4eb9731bb0be500096e052d47a9bbadc

MD5:
d78ef2d5f3f39a178edadb5806d6bab4
Matt Jones' Foundation theme (the first ever user-contributed Geeklog theme, btw).
This is an "unofficial" version, upgraded to work with Geeklog 1.3.9.

MD5:
91d1b2de01c34ae1daf9b1c6832dbd00
Visitor Statistics Program

MD5:
2d8a3031653b2c5023cf118b957fe4dd
This is a re-release of a Geeklog 1.1 plugin that now works with Geeklog 1.3.7. This has a lot of work left before it is polished but it should work just fine for the most part. This is a beta so use with care.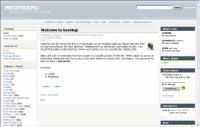 MD5:
31e3419920292267ea3b36dc97b045b9