Welcome to Geeklog, Anonymous Wednesday, November 29 2023 @ 12:43 am EST
Downloads
File Listing: 165 files

MD5:
f19c9370c9e148b462b7b61e43566c19
This is the first beta release of Geeklog 2.1.2. Please try it out on a non-production website and give us your feedback.
For more information on the new features and bug fixes in this version please read the history text file found in the docs directory.
For live sites the recommended Geeklog version is 2.1.1.
If you find any bugs in this release, please report them here.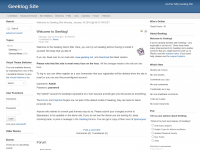 MD5:
9ef33d69a01008b7cf343e525a9fbc4b
Geeklog 2.1.1 is the recommended version for all users of Geeklog. For upgrades please make sure any plugins you are using are compatible with Geeklog 2.1.0 or higher. This is a complete tarball for fresh installs as well as upgrades from any older Geeklog version.

MD5:
7646074a3503cf2b89da5637b12b1918

MD5:
d08bfe2e0544244880f91821c82357ba
This is the first beta release of Geeklog 2.1.1. Please try it out and give us your feedback. For live sites the recommended Geeklog version is 2.1.0.
md5 checksum: d08bfe2e0544244880f91821c82357ba

MD5:
1dd7b72567daa12f18f188f8451c6ae8
Geeklog 2.1.0
This is the recommended version for all users of Geeklog. For upgrades please make sure any plugins you are using are compatible with Geeklog 2.1.0. This is a complete tarball for fresh installs as well as upgrades from any older Geeklog version.
md5 checksum: 1dd7b72567daa12f18f188f8451c6ae8