Welcome to Geeklog, Anonymous Sunday, October 02 2022 @ 06:20 pm EDT
Downloads
File Listing: 488 files

Fixed displaying in GL 1.3.9

MD5:
216329443ca09db42c0f4cb9498ed1cb

MD5:
7ab1fa03301642382175a621adb9d9ab
A plugin for managing things to do. Items (TTDs) are topic dependant, and fully respect the Geeklog security model. TTDs are shown in a centerblock if desired, either on the homepage and in topics, or in topics alone.

MD5:
d3e5569f353d1be06b53f5a837b6c9c1

MD5:
fb0286e97f58e04c48bc90611dc643ef
Updated Spam-X plugin, compatible with Geeklog 1.3.10, 1.3.11, and 1.3.11sr1.
Includes fixed MassDelete module and new modules to block posts by IP address, IP address of the spamvertised domain, and HTTP headers.
md5 checksum: fb0286e97f58e04c48bc90611dc643ef
MD5:
8b4cf757b9c44e888b410744f6e3b36a

MD5:
7c53f87b4aba9d2d0cbd6737110e2a42
EN: Dutch language pack (dutch.php & dutch_utf-8.php) for Geeklog version 1.4.1.
NL: Nederlands taalpakket (dutch.php & dutch_utf-8.php) voor Geeklog versie 1.4.1.

MD5:
7cce29b12ad76a5a04b9d7c57ac18fd1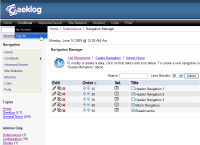 MD5:
e9e458aba9f472f6652e43731f892bdc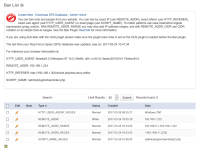 MD5:
eb24469eb34b4a948aeadcfedde63157