Welcome to Geeklog Monday, July 13 2020 @ 01:31 am EDT
Downloads
File Listing: 486 files

MD5:
761b1bac00e47a540d448435eeae9b1f

Category:
Add-ons

Translations
MD5:
cea6ddf014e1f5a8f7c5bd9be06cda33
In this file the tags [imageX] etc in the story editor are translated to dutch: [beeldX], [beeldX_links] and [beeld_rechts]. It is easy to translate them to another language. Please read the comments in the top of the file. I recommend only to use this file if you absolutely have to since the core GL developers have decided to keep the mentioned tags in english for the future, so upgrading might be difficult.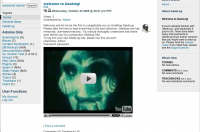 MD5:
306ef3e6a8d97490daade8621200a35d
This plugin just adds a YouTube autotag to your 1.4 or higher geeklog sites. example of use: [youtube:youryoutubefileid]

MD5:
3751aeca6b6b0a7bb4c95df6245aaac1
The PayPal plugin allows you to have an online product list and accept payment via PayPal.This is an updated and Multi-language support version of the Paypal Plugin originally developed by Vincent Furia.

Category:
Add-ons

Converters
MD5:
87b2d757f3b4e8d569a4e14e148ab987

MD5:
864c1a6edeb54b23589d09ad11414e91

Category:
Add-ons

Converters
MD5:
d1409df1c3f03d6f60cd4c05e15eb9e8

MD5:
2c8ccaabbf4c59d8dfda2fdf54fdf733

MD5:
325309a897aa42309cb0da249fc273e2

MD5:
53c89b3d4664bbb9a753f9e703ca9a0c