Welcome to Geeklog Thursday, June 04 2020 @ 02:51 pm EDT
Downloads
File Listing: 484 files

MD5:
47855d805f06db19a221ceed08b72223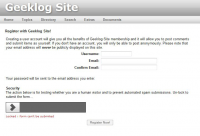 MD5:
f386c105f7781de746c9fe33be306a6a
New CAPTCHA plugin is no longer based on pictures but on a user action. Before submitting a form, users must move a slider. Compatible with touch interface.

MD5:
5b2c7453d3487f44eaf1d4daccc864aa

This addition to Geeklog subverts the existing links functionality to provide a tailored system for displaying "interesting" links elsewhere.
The primary difference with the existing links facility is that News Picks is a very rapidly changing and growing list of links.
This is, hopefully, the last RC.
Included bug fixes and suggestions from true believers ;-)

MD5:
986f6fd82e715926096754b6a0b25c36

MD5:
b0049d96878203d4a49d263b4dd2edc7


MD5:
3774c957234bd2963eb699b758165c49

MD5:
434b231fca4dd4746f6aa1cfe1125940
A few patches for Blaine's Forum plugin (version 2.7.1 only):
- display thread subject in the site's title
- fixed possible SQL errors in search
- leave out forum= parameter from search results (shorter URLs)
- add support for $_CONF['ip_lookup'] to "Ban IP" option
- updated German language file