Welcome to Geeklog Tuesday, October 26 2021 @ 08:45 am EDT
Downloads
File Listing: 486 files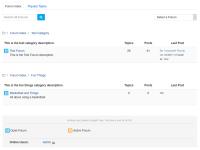 MD5:
88d3a28100472f02743e5c842922294c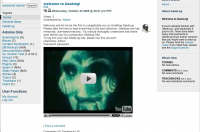 MD5:
306ef3e6a8d97490daade8621200a35d
This plugin just adds a YouTube autotag to your 1.4 or higher geeklog sites. example of use: [youtube:youryoutubefileid]
MD5:
0547722e01371824b172417884f30e1f

MD5:
fda64fcd761ac721e295e262a5da828d
This hack provides a basic capability for an admin to ban registered users either temporarily or permanently on a Geeklog site. To use this feature, you first create a new group named "Banned" with the Group Editor and then add offenders to it via the User Editor. To ban those who hold admin positions (e.g. Root, Story Admin, etc), you must also uncheck (i.e. remove) all of their admin privileges in the User Editor. The hack contains a check to prevent Root Users from ever being banned.


MD5:
ebe6cb11e3b865aba7c0ec611a82538e

MD5:
864c1a6edeb54b23589d09ad11414e91

This is another release for my staticpages plugin hack. This version corrects a problem that some users experienced, in which backslahes were being appened to their code. This version appears to work for all users, however, please make sure you backup your code before using it. Extra slashes in existing pages will not be altered, but any new pages/modifications should work properly. Additionally, the plugin config file has beeen altered to show the proper version.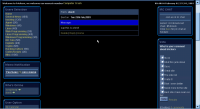 MD5:
9e84c6c51fb240dd463bd455255370e0
this is a great memo system for gl .. it works great
this is good for users who has not gottom the gl_forum or/and would love to talk insecret to others or send fast notifications

MD5:
68e3da4440bc2d61cb1c6e977ce14ac5
This release addresses a couple of IE compatablility issues.
This is the DailyQuote plugin for GL 1.3.9/10/11. It's most basic function displays a random quote in a PHP block or a center block. It is configurable to deliver much more functionality than simply displaying a random quote, e.g.: quotes may be cached; quotes may be searched and displayed; quote submissions may be moderated; permissions are configurable; and more. New to this version is a backup/restore function.

MD5:
7ab1fa03301642382175a621adb9d9ab
A plugin for managing things to do. Items (TTDs) are topic dependant, and fully respect the Geeklog security model. TTDs are shown in a centerblock if desired, either on the homepage and in topics, or in topics alone.