Welcome to Geeklog, Anonymous Monday, December 05 2022 @ 04:46 pm EST
Downloads
File Listing: 498 files

MD5:
0c012d60c1f25f10e24b3d312665356d

MD5:
1dc34f96badab5900ac221e34637cdd9
MD5:
9fc5e069734a0c3601f65dea3198c48f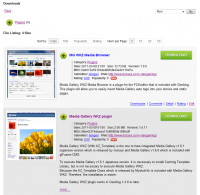 MD5:
4b9b46b4745f2cd6d6488ceec9a8d8a8
MD5:
ea275a98ce23d1de6dc5974aaec604a9

MD5:
3fe4882666a833c49a586a50d1ce65e2
This is a simple Flickr plugin for Geeklog. All it does right now is to provide autotags to show pictures, galleries, slideshows.
--
[New] Update for geeklog 1.8.0+
[New] Need jQuery plugin to support lightbox (flickr_gallery autotag)
[New] flickr_gallery autotag is now build with php to allow caching requests
[Update] phpFlickr Class 1.6.1
[New] Use your own flickr API key. Get one from
http://www.flickr.com/services/api/
[New] [flickr_gallery:] autotag support size parameter.
[New] [flickr_slideshow:] autotag support width and height parameters.
[Fix] Bug for DB caching
MD5:
a63f81b4a60de43587935e47dd693c8d
DokuWiki is a standards compliant, simple to use Wiki, mainly aimed at creating documentation of any kind. It is targeted at developer teams, workgroups and small companies. It has a simple but powerful syntax which makes sure the datafiles remain readable outside the Wiki and eases the creation of structured texts. All data is stored in plain text files – no database is required.

Category:
Add-ons

Translations
MD5:
1ff45de6305ee46d6c3fc89035f4e3f1

MD5:
ac2b7c31dc56eae07230d2a1032e1141

MD5:
a0763056461861ced424ccf37db3c913