Welcome to Geeklog, Anonymous Friday, December 01 2023 @ 03:47 am EST
Downloads
File Listing: 498 files

MD5:
f204649bb0deb5e75407493d13d7d85f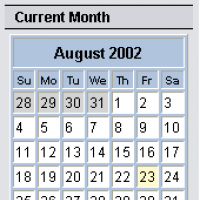 MD5:
18a90e8f7a1a3f6f2f8c1ed4260c4e2f
Mini Site Calendar Block that can be used to show site updates for a date when date on calendar block is selected. Dates are highlighted if there are main calendar events. Tool tip help shows event titles for quick viewing. Version 2.6 of this block - updated for GL1.4.1 and refactored to now use templates for easier editing of layout.

MD5:
5dd1793c75f86582d7f088d4b86d2f2c

MD5:
79e8c432983e41beb3a2346a2801b3bd

Fixed displaying in GL 1.3.9