Welcome to Geeklog Sunday, February 18 2018 @ 02:50 pm EST
Downloads
File Listing: 465 files

MD5:
79e8c432983e41beb3a2346a2801b3bd

MD5:
f204649bb0deb5e75407493d13d7d85f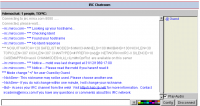 IRC Chat Block provides the capability to embed and host a chat room inside a Geeklog site. A visitor's browser must have the Java plugin in order to use the jIRC client software. If this feature is disabled, the visitor can still enter the room using one of the readily available downloadable client softwares.