Welcome to Geeklog Tuesday, October 20 2020 @ 03:56 pm EDT
Downloads
File Listing: 486 files

Category:
Add-ons

Translations
MD5:
756f30b6c9c444b19d339e3e8caa252a

MD5:
0f5994fc5c8fedafa881f340b447a055
** Beta Release for Testing **
Geeklog Plugin for managing Frequently Asked Questions. Based on the FAQMan from Stephen Ball. Plugin now provides Geeklog integrated install, de-install, admin, security, search and modified templates.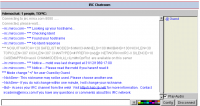 IRC Chat Block provides the capability to embed and host a chat room inside a Geeklog site. A visitor's browser must have the Java plugin in order to use the jIRC client software. If this feature is disabled, the visitor can still enter the room using one of the readily available downloadable client softwares.

MD5:
6e99f6a54d17e65ff1162289ac01dd10

Category:
Add-ons

Translations
MD5:
46988d0f95845d60d0fa5e31bd20ef1c