Welcome to Geeklog, Anonymous Friday, September 22 2023 @ 08:38 am EDT
Downloads
File Listing: 191 files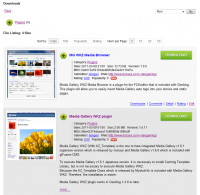 MD5:
4b9b46b4745f2cd6d6488ceec9a8d8a8

MD5:
ebe6cb11e3b865aba7c0ec611a82538e
MD5:
afa81b8f1da77b118ff4e6b32b287f0f
Downloads plugin adds downloads section to your Geeklog site.
This plugin is derived from the famous Filemgmt plugin. And, adds various features.

(Ver1.0.3)
* Fixed bug in the category select-box display on multi-language mode.
* Fixed issue errors may occur when creating a category.
* Fixed bug with link to download content from comment page.

MD5:
7843139ef624e12ecda7ab63e6c852e2
This plugin collects statistics on who visits your site, what browser and operating system they are using, which pages they view, and which links they are clicking to get there. It allows the administrator to browse these stats through a series of tables, getting right down into the data.

MD5:
68e3da4440bc2d61cb1c6e977ce14ac5
This release addresses a couple of IE compatablility issues.
This is the DailyQuote plugin for GL 1.3.9/10/11. It's most basic function displays a random quote in a PHP block or a center block. It is configurable to deliver much more functionality than simply displaying a random quote, e.g.: quotes may be cached; quotes may be searched and displayed; quote submissions may be moderated; permissions are configurable; and more. New to this version is a backup/restore function.