Welcome to Geeklog, Anonymous Friday, December 01 2023 @ 04:35 am EST
Downloads
File Listing: 191 files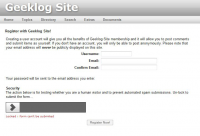 MD5:
f386c105f7781de746c9fe33be306a6a
New CAPTCHA plugin is no longer based on pictures but on a user action. Before submitting a form, users must move a slider. Compatible with touch interface.

MD5:
8c9c020aa73030ddd9ad1f5761ee1d38
I made to corresponding geeklog1.5.1 it that Chameleon plug-in exhibited in www.gllabs.org
More considered basic accessibility.
And cope to add style pack by Zip file.
--
Chameleon can change to select layout of page , style of menu and block , color , logo ,etc.
And it can to add style pack by yourself.
--
* About to add style pack
At first select style type from add style pack. Next check a manual entry and push the save.
Thirdly upload style by FTP Software to the directory position of a message (it is English, but thinks it whether You understand it because it is PATH) appearing after a save.
By this procedure You can add a style freely.
(From ver2.1.0)Can add a style to appoint a ZIP file.
(From ver2.1.0)Can add custom style of layout too.
--
* How to simple install plug-in by automatic installer.
At first download file (recipe) for an automatic installer from there(
http://hiroron.com/filemgmt/index.php?id=148
).
Next drag a file to the screen which started an automatic installer.
Recipe for Chameleon plug-in :
http://hiroron.com/filemgmt/index.php?id=148
automatic installer(wkyGeeklkogInstaller) :
http://hiroron.com/filemgmt/viewcat.php?cid=3
--
* Install/Usage
Please Look at a bundled INSTALL.

MD5:
234e76b88e14dd88524427ae33c1c639

MD5:
a3c9d1410ed350dc482024caf25b0e00
Chatterblock plugin: Add this to allow your visitors and members to leave messages. Now supports three modes, smilies, Chatterlog and online configuration. Includes Auto-Refresh mode to have the block refresh itself and alert you via a popup if there is a new public or private message.

MD5:
f68064f9e1b168e7d66625ab37cfa6b2