Welcome to Geeklog, Anonymous Friday, December 01 2023 @ 05:27 am EST
Downloads
File Listing: 191 files

MD5:
17c722d11dd130d0e53fabdac139f2e6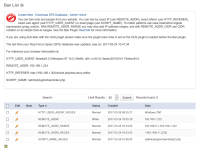 MD5:
5728339a897891e697c9d1bd7591af0a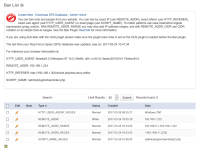 MD5:
eb24469eb34b4a948aeadcfedde63157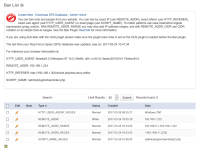 MD5:
24d7a6c13dc551df2907c8509bd8ca80
The Ban plugin allows you to ban people and bots from your website. You can ban a bot/visitor by IP, Referer, User Agent or Script Name. Exact match and case insensitive regular expressions can be used to give you great flexibility.
The ban plugin also includes an API that can be used by other plugins to integrate the ban functionality. Currently the Geeklog Comment Admin, the GUS plugin version 1.7.3 or higher, and the Forum Plugin v2.9.1 or higher support this.
The ban plugin can also ban IPs based on Geeklog's Error and Speed Limits.
Plugin Requirements:
- Geeklog v2.2.1 or higher
- PHP v5.6.4 or higher (including PHP v8.1)
- MySQL 4.1 or higher
New Features, Improvements, and Bug Fixes:
- Added support for banning IPs based on Geeklog v2.2.2 Error Limits
- Speed improvements. Ban status now stored as session variable
- Fixed to work with PHP v8.1
- Fix retrieving host info from GUS plugin
- Fixed Ban plugin calculated incorrect dates when download SFS database
- Fix for time zones
For a complete list of closed issues and features for this version see:
https://github.com/Geeklog-Plugins/ba...5?closed=1

MD5:
3fbe7223a0452ab5efa0ddd198d47df8
This plugin manage Banner link.
Autotags Support: [banner:] [randombanner:] [bannercategory:]
Auther: hiroron