Welcome to Geeklog Tuesday, June 19 2018 @ 08:20 pm EDT
Downloads
File Listing: 167 files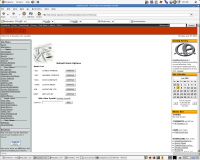 MD5:
01c4d34e2c7e316522ebe9c8c5c21e75

MD5:
8878e19874770f3f39bcbd13612e57f1
This is a bug fix release to better handle underscores in tags.

MD5:
686dae969b2b1e880d71d51c7d4fb39f
MD5:
8b4cf757b9c44e888b410744f6e3b36a

MD5:
7ab1fa03301642382175a621adb9d9ab
A plugin for managing things to do. Items (TTDs) are topic dependant, and fully respect the Geeklog security model. TTDs are shown in a centerblock if desired, either on the homepage and in topics, or in topics alone.