Welcome to Geeklog Friday, July 20 2018 @ 06:43 am EDT
Downloads
File Listing: 168 files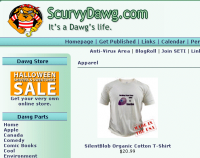 MD5:
60c96f21f2efa799a64d63debb44f7c8

MD5:
80608c4cf7b3482ea7819f1a9b40727b
This is the release candidate 3. Upgrade function bugs were fixed.
New feature:
- What's new Block entry
Current features:
- Automatic language switch according to user settings
- Two-dimensional topics (Tree)
- unlimited languages
- 999 Q&A per topic
- hitcounter (see geeklog stats page)
- search (integrated into geeklog search)
- upgrade function from v1.0 (run /admin/install.php)
Future features:
- Custom order of topics
- Comment and/or rating function
- Translation request function

MD5:
1f281139a51bbc01b950eb434eadd5f5

MD5:
7ab1fa03301642382175a621adb9d9ab
A plugin for managing things to do. Items (TTDs) are topic dependant, and fully respect the Geeklog security model. TTDs are shown in a centerblock if desired, either on the homepage and in topics, or in topics alone.

MD5:
517adaa39993d18af82533b948620f44