Welcome to Geeklog Saturday, March 24 2018 @ 09:44 pm EDT
Downloads
File Listing: 157 files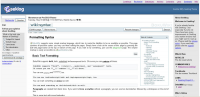 MD5:
e00f67728f76618e95bfdd3ecf50c428
DokuWiki (2009-12-25c "Lemming" ) is a standards compliant, simple to use Wiki, mainly aimed at creating documentation of any kind with your Geeklog v1.6.0+. It is targeted at developer teams, workgroups and small companies. It has a simple but powerful syntax which makes sure the datafiles remain readable outside the Wiki and eases the creation of structured texts. All data is stored in plain text files – no database is required.
--
DokuWiki has the following system requirements:
* PHP 5.1.2 and higher.
* This integration is based on Geeklog v1.6.0 and do not work with older versions.
--
MD5:
e4dcbd400b1bed3e0353d1ee3db8d4b1

MD5:
68c06e997733984cc421a592b75bb5ed
Forum plugin for Geeklog
This release addresses a potential XSS in anonymous usernames.
md5 checksum: 68c06e997733984cc421a592b75bb5ed

MD5:
eb4785cad373590e2baff10ee2bdddca
This is a plugin that manages GoogleAnalytics at Geeklog later than 1.5.0. You just put GA's trucking ID at GoogleAanlytics plugin manager and insert a tag {googleanalytics} which represents the Google Analytics JavaScript codes. Thus a proper code does insert into a Geeklog's proper thtml file. (NEW!) At this ver 1.1.1, the plugin provides an option to use Google's asynchronous trucking code.

MD5:
3751aeca6b6b0a7bb4c95df6245aaac1
The PayPal plugin allows you to have an online product list and accept payment via PayPal.This is an updated and Multi-language support version of the Paypal Plugin originally developed by Vincent Furia.