Welcome to Geeklog Monday, October 26 2020 @ 06:32 pm EDT
Downloads
File Listing: 100 files

MD5:
93eec1395a5c03ecba93d2d3572d0e1b
Please read the README
Supports Dynamic Menus (Create your own dynamic tabs), Supports HTMLArea, Personalized Menu bar. Spiffy Design.

MD5:
0e920fac52ca83243a9463de43e79c4a
Glass theme for GeekLog 1.3.6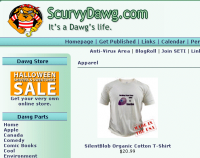 MD5:
4f83d082bc51f10c2558b0a49fb7423d
I designed this theme with simplicity and emphasis in mind. It's a clean theme, that focuses on showcasing the content. The use of color in this theme is really only as an accent to add a little more excitement.

MD5:
8431c15c540da80cd8b168d871feb0a3