Welcome to Geeklog Wednesday, September 19 2018 @ 05:53 am EDT
Downloads
File Listing: 100 files
MD5:
b0383a42a20f71c6dc2c46e06c11db13
MD5:
33a4ec44b87e90581e1fa505d037a5c9
MD5:
dc30bba51c94ca7139551c63dacdf4fe
This is a theme I made quite a long time ago, and am not using anymore. There are a couple photoshop files included so you can change some of the images (the logo and some custom topic names). I believe I have updated it to work properly with 1.3.9 but haven't tested it fully. If you have any problems with it, please find a solution and email it to pfarmtheme@theouldsod.com
This is just a theme I threw together during the 2.3 release candidate stages of Blaine's amazing Forum plugin. I hope to eventually make it mostly CSS, but I'm dealing with tables, for now. Feel free to modify and redistribute it as you see fit. Also, please send any suggestions/comments/fixes my way by e-mailing or PMing me through www.geeklog.net.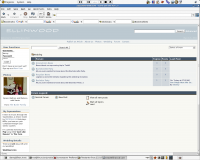 MD5:
ebf2d40232c94868e5498387fd298861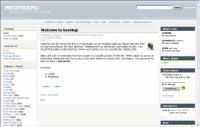 MD5:
31e3419920292267ea3b36dc97b045b9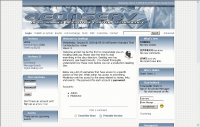 MD5:
fe0b3e300971757593d1d23e4c825752
Here is the most anticipated theme ever created for the Geeklog system. Major thanks goes to the men behind Geeksta.com and Squatty.com. This theme is based on original work of Aeonserv.com and is made for your enjoyment. Please, if you have any comments, compliments or complaints, be the wiser and let me know :)

MD5:
3abd97968a385f883b85aa69b8911c1c
Tema 100% sin tablas, toda la estructura y los estilos estan definidos mediante CSS.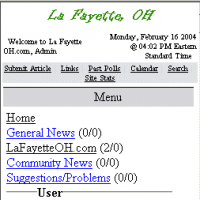 MD5:
645c17fbe1e51daa4f8a9178ccab601b
This theme has a css based design so to load quickly on your site. You can see it in use over at my site
http://aeonserv.com
. No screenshot has been made. I hope you enjoy it :)