Welcome to Geeklog Sunday, September 23 2018 @ 02:53 am EDT
Downloads
File Listing: 100 files

The TabularDynamics theme has been updated for use with Geeklog 1.4.0
The updates were very basic. Mostly, the changes found at
http://www.geeklog.net/docs/theme.html#changes
were applied to Version 1 (originally uploaded on Sept 23, 2003) by copying the updates files from the Professional theme. There seem to be many files in TabularDynamics which aren't in Professional, and I have only removed the ones which were indicated as obsolete in the Theme Changes document.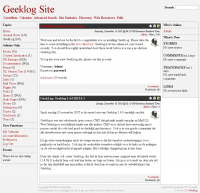 MD5:
7e88a635800e4b5d84d4474531f7c1fe

MD5:
e432f125cba7ef01ca730f9da398a1b5
The Professional theme Rich-text edits that have been uploaded to this library are wonderful, but are not complete in their instructions or necessary code to fully take advantage of the rich-text functionality. To this end, this text file with the extra edits and code is provided for you as an example of what might be more workable for your needs. Enjoy.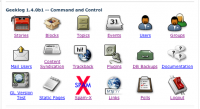 MD5:
75314f6bdcba90363c3787a520cb2b4b
Geeklog 1.4 comes with a new set of icons for "Command and Control" (admin/moderation.php). In the Professional theme, these icons are in PNG format with a white background. This archive contains the original PNG icons, most of which use alpha transparency. Theme authors can use these to create icons that better match their themes.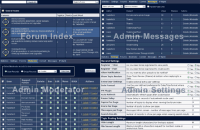 MD5:
3900fda7b6f62e2d8526468a69fac5fc