Welcome to Geeklog Monday, October 26 2020 @ 06:20 pm EDT
Downloads
File Listing: 100 files
MD5:
13be2a566270d9b0438ada61f791e657
Theme maker for Geeklog 1.7.1 960 px fixed layout
Tableless layout and using CSS 2.0.
Customize: custom.css and images/custom/
Customize sample: custom.sample.css
Read more README

MD5:
a7b5c037dad2a21de456998313fdcde6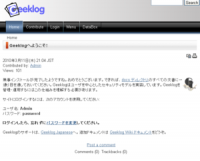 MD5:
b192f781070607c2c60b883bb7cc0e2a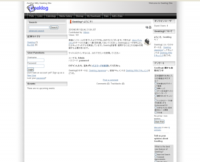 MD5:
44be06ddf499c2a7d674d70111f72361
Adeliae_en is based on the ProfessionalCSS_en theme for Geeklog1.7.0.
Some block design are added.
Original file is custom.css, images/custom/, functions.php and some templates for blocks.
MD5:
27c983527a00b12159c11cbc9f531a33
ProCCS3 theme is based on the ProfessionalCSS_en theme for Geeklog1.7.0 and use shadows from CSS3 (available in IE9).
--
Another Nifty Geeklog Theme