Welcome to Geeklog Wednesday, September 19 2018 @ 08:33 am EDT
Downloads
File Listing: 100 files
MD5:
4eb9731bb0be500096e052d47a9bbadc

MD5:
b19253ebd4aec671e2d48daa58d150c3
I added all the needed files to update the XFlame theme to GL 1.3.8
MD5:
1fb596ee2401abc078390bc537d3de79
ClearBlue Theme, vaguely reminiscent of Apple's Aqua GUI.
Updated for Geeklog 1.3.8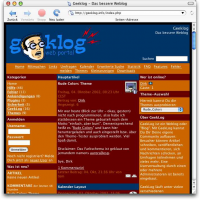 MD5:
df68c43a44f99c902c24e017470f0751
My second theme - it's simple, but it's colorful :-)
Updated for Geeklog 1.3.8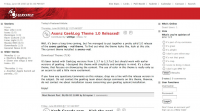 MD5:
1fe2a277a5198be6bb12e4cdd4687854
I designed this theme with simplicity and emphasis in mind. It's a clean theme, that focuses on showcasing the content. The use of color in this theme is really only as an accent to add a little more excitement.