Welcome to Geeklog Tuesday, September 18 2018 @ 08:58 pm EDT
Downloads
File Listing: 100 files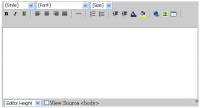 MD5:
ef1b6f0fd72816c82456b418952bb028
These are the changed files for Professional theme with a WYSIWYG editor added. Rich text editor powered by The Rich-Textarea WYSIWYG editor <
http://tech.tailoredweb.com/rich-textarea-53.php
>. It works in IE 5.5+ , Mozilla 1.5.1 +, or Firefox 1.0+.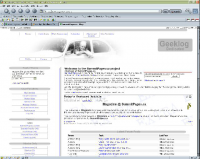 MD5:
3f01a436ebd902c0077ecea6d684e6bb
A clean and IMO professional looking theme.
Features: 2 column layout; separated plugin menu items from menu items; custom template files the section_block, admin_block, user_block, whats_related_block, and the story_options_block.
Just a theme I put together in homage of my motorcycle
MD5:
7e05cea141560521c1a0154854f000f6
MD5:
ead99023b46faed35e98ee7da6090789
based on the gameserver layout, this orange and gray theme, which sports a cool bg pic, is now 1.3.10 compliant.